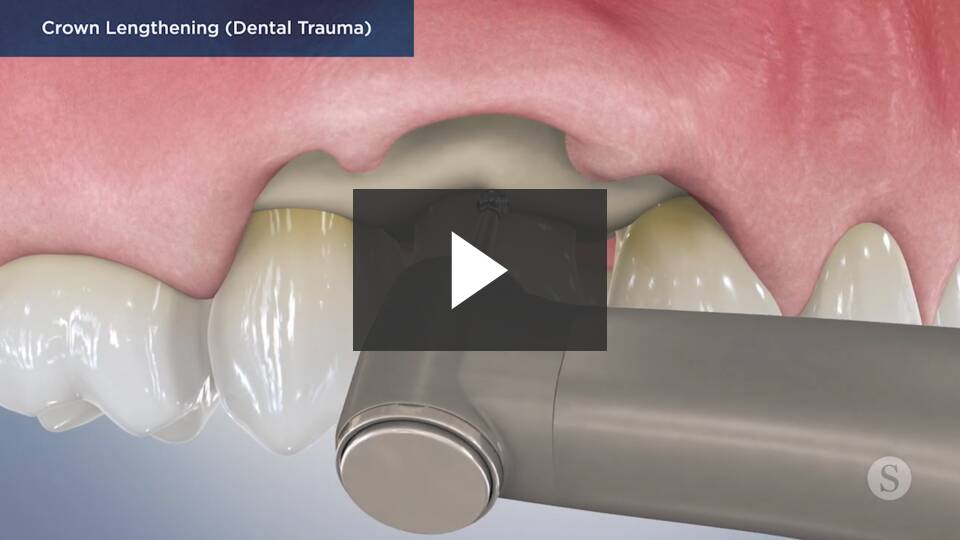 Crown Lengthening (Dental Trauma)
What Is Crown Lengthening?
Crown lengthening is an oral surgery treatment that involves removing excess gum tissue, and possibly some bone, around the upper teeth to make them look longer. Dentists and periodontists frequently perform this standard procedure. If the gum line is uneven, crown lengthening can sculpt the gum line to produce a more symmetrical smile.
Crown lengthening may also be performed for other dental reasons. For example, crown lengthening may be necessary to support the installation of a. A dental crown, or cap, may be required due to a cracked or damaged tooth. Untreated cavities frequently become too large to be corrected with a filling, leaving you in the position of needing a dental crown. Additionally, crowns can also cover misshapen or discolored teeth.
Advantages of Crown Lengthening
Unlike many other cosmetic dentistry treatments, crown lengthening only needs to be done once. In addition to creating a broader, more symmetrical smile, crown lengthening can provide other dental care benefits. Crown lengthening treatments can also reduce tooth decay because more of the tooth is exposed to brush and floss.
Preparing For Treatment
This outpatient procedure can often be completed in about an hour. Before your surgery, x-rays will be taken. Your medical history will also be reviewed with your dentist or surgeon to go over any current medications you are taking or any other health concerns that could potentially affect the surgery outcome. A thorough examination of your teeth, gums, and bone structure will be performed before your treatment.
To better help determine if crown lengthening surgery is right for you, your dentist will predetermine how much of the gums will need to be removed or contoured to achieve your desired results.